For July's issue, we assembled the most important cars ever built, working forward from 1955, when we were founded as Sports Car Illustrated, and the modern auto industry came of age. These are Car and Driver's GOATS – the Greatest of All Time. Today: The Sixties.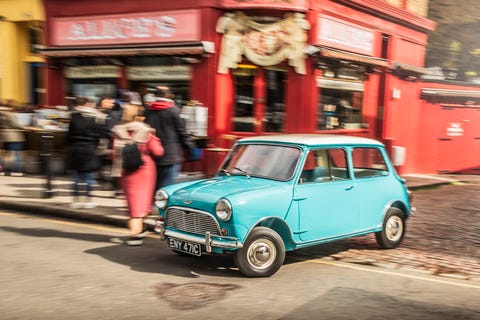 Charlie MageeCar and Driver
1960 Austin Mini
"I've always felt that stylists such as you have in America are ashamed of a car and are preoccupied with making it look like something else, like a submarine or an airship," Alec Issigonis told the New York Times in 1964 about his design for the Mini. "As an engineer, I revolt against this."
The 1960 Mini (originally called the 850 in the U.S.) was applied logic from an unconventional mind. To maximize interior space in a car that was only 10 feet long, Issigonis placed the 848-cc inline-four sideways with a four-speed manual in its sump. A unibody eliminated the need for a separate frame, with the light body suspended by rubber-cone springs over dinky 10-inch wheels. It was unlike anything else at the time and remarkably similar to today's cars and crossovers—conceptually, not dimensionally.
Then the Mini went racing and kicked ass. In tweaked Cooper S form, it won the Monte Carlo rally in 1964, 1965, and 1967. (It was robbed in 1966 when the Minis that finished in the top three spots were disqualified for noncompliant headlights.) Through the years, Minis have competed in just about every motorsport, except motocross and hydroplanes, and they now clog the grids at vintage races. Sold by Austin, Innocenti, BMC/British Leyland, Morris, Riley, and Wolseley, more than 5 million Minis were built before production stopped in 2000. —John Pearley Huffman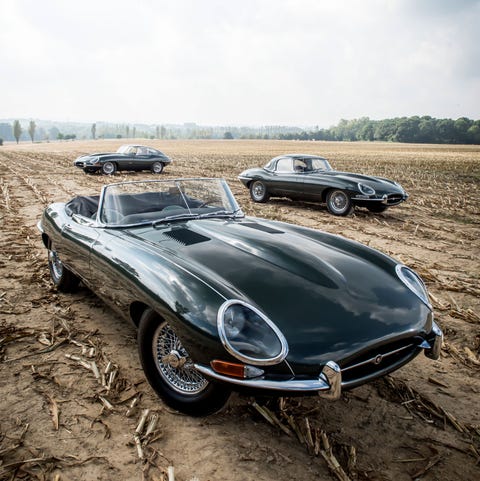 James LipmanCar and Driver
1961 Jaguar XK-E
From the C/D Archives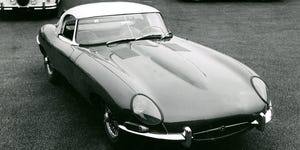 Tested: 1961 Jaguar E-type Rocks the Car World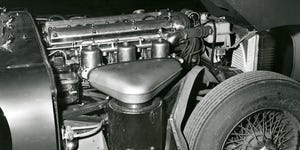 1961 Jaguar E-type Photos
The XK-E is the marquee dream car of its era because it's beautiful, but its beauty was incidental to its low-drag, high-speed function. The shape was penned by Jaguar aerodynamicist Malcolm Sayer. That striking body was draped over race-proven hardware that was ahead of its time in many ways, such that it's hard to believe this alleged 150-mph car is now nearly 60 years old. The husky burr from the DOHC inline-six no doubt influenced the great naturally aspirated BMW sixes, and its 265 horsepower is enough to make you glad for the confident bite of the four-wheel disc brakes (located inboard at the rear). The cabin, all needles and dials and toggle switches, exudes timeless cool. When it was new, we tested the E-type with a 2200-mile trip from New York to Detroit and back. We'd jump at the chance to do that again. —Ezra Dyer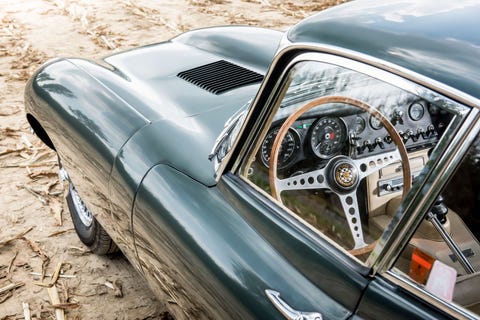 James LipmanCar and Driver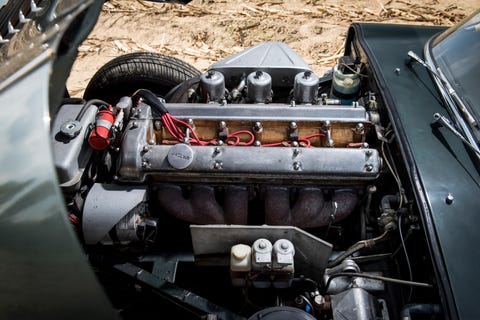 James LipmanCar and Driver