For July's issue, we assembled the most important cars ever built, working forward from 1955, when we were founded as Sports Car Illustrated, and the modern auto industry came of age. These are Car and Driver's GOATS – the Greatest of All Time. Today: The Fifties.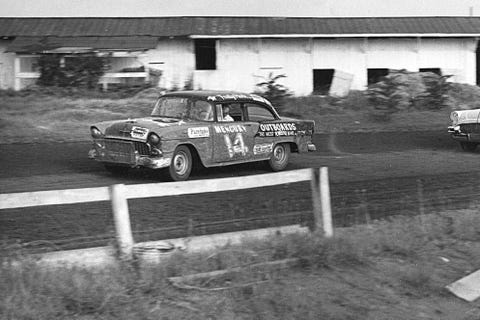 ISC Images & ArchivesGetty Images
1955 Chevrolet
On March 26, 1955, Fonty Flock drove a new V-8-powered Chevrolet onto the half-mile dirt oval at South Caro­lina's Columbia Speedway. Two hundred laps later, he earned Chevy's first victory in NASCAR's top division, Grand National (now called Cup). Since then, Chevy has become the winningest manufacturer in the history of the series. And it all started with the '55.
From the C/D Archives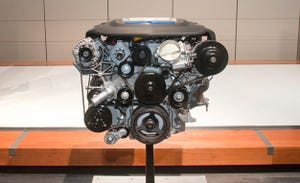 The Chevy Small-Block V-8 Strives to Last Forever
With antiseptically clean flanks, a grille seemingly swiped from Ferrari, and a roof dropped as much as six inches from the '54 model, the '55 was Chevrolet's great leap forward in terms of style. A new ladder frame, control-arm front suspension, and leaf springs set wider apart in the back underpinned the car. It drove brilliantly, looked gorgeous, and didn't cost much.
But the great breakthrough was the small-block V-8. Inspired by the 1949 Cadillac pushrod V-8, the Chevy engine was simplified, lightweight, compact, and inexpensive to build. The cylinder heads could be swapped bank-to-bank, featured integral valve guides, and lacked rocker arm shafts. With a short three-inch piston stroke, the original 162-hp V-8 measured 4.3 liters (265 cubic inches) and could be modified to rev to 6000 rpm.