A coupe is colloquially known as a two-door car. The Society of Automotive Engineers (SAE) classifies a coupe as a vehicle with less than 33 cubic feet of rear-seat space. The Mercedes-AMG GLC43 coupe meets neither of those requirements, but that doesn't stop Mercedes from calling this slope-back AMG-tweaked GLC a coupe.
[pullquote align='center']HIGHS: Exquisite interior, rousing exhaust note, quick and quiet when you want it to be, possibly some people might like the way this thing looks./pullquote]
If you're deeply offended by the misnomer, you can always opt for the regular GLC43 SUV, which is mechanically identical to the GLC coupe. Sorry, there goes that word again. For 2020, both versions of the GLC43 get a new infotainment system but, more important, horsepower rises from 362 to 385. An exterior reskin brings redesigned LED headlights, vertical chrome fins in the grille instead of the old diamond-block pattern, and a more aggressive-looking lower fascia.
View Photos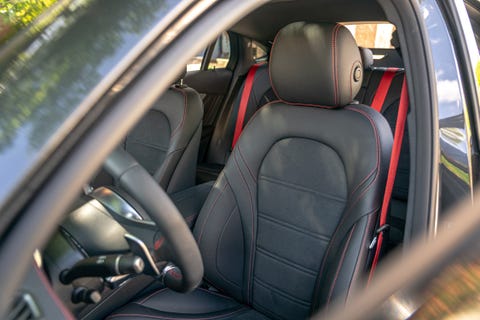 Marc UrbanoCar and Driver
Money Talks
Mercedes has revised its pricing to close last year's $4200 gap between the "coupe" and regular GLC43 to $2500. A 2020 GLC43 coupe starts at $63,995, an increase of $1800 over last year. Even bundled with $7810 worth of options, our GLC43 coupe's as-tested price was $71,805.
More on the Mercedes-AMG GLC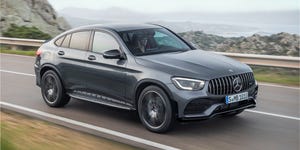 2020 Mercedes-AMG GLC43 SUV and Coupe Get Upgrades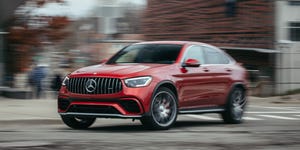 AMG GLC63 S Coupe Is Enjoyably Excessive
Our GLC43's interior wore the standard black leatherette seats that come with microsuede inserts to help hold you in place. Open-pore wood trim stained black on the center console and the aluminum trim looks every bit the price of entry. The new 12.3-inch digital gauge cluster is a $750 option that we expect few will skip. A loud and clear Burmester audio system added $850 to the total, but when it's quiet time the noise-insulating side glass ($150) helps turn down the volume. Our GLC's 68 decibels at 70 mph is three fewer than an earlier GLC we tested without the insulating-glass option.
View Photos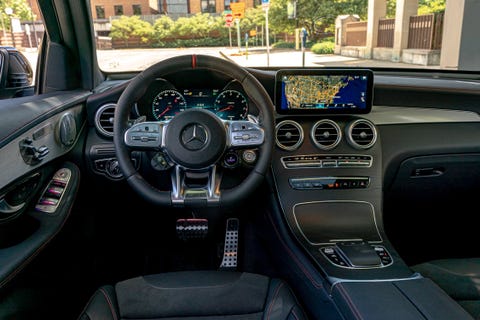 Marc UrbanoCar and Driver