From the July 1995 issue of Car and Driver.
No one accused the Toyota T100 of being just another pretty pickup when it was introduced in late 1992. As Japan's first bigger-than-little truck to make it to the U.S., some wondered if Toyota purposely made it undistinguished-looking to avoid antagonizing Ford, GM, and Chrysler, who saw the full-sized pickup market as their last unchallenged turf.
Pick Your Pickup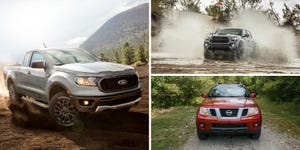 Mid-Size Pickup Trucks Ranked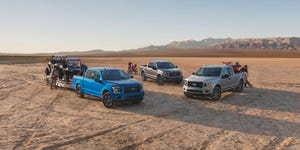 How to Buy the Pickup That's Right for You
After all, the T100 was already overpriced, thanks to the 25-percent American tax on imported trucks. A well-equipped, manual-transmission 1993 T100 SR5 four­-wheel-drive listed for over $22,000, which was about $3500 more than a full-sized, V-8-powered Ford F-150 4×4 with an automatic transmission. So, understandably, thousands of T100s gathered dust in dealer showrooms, forcing Toyota to ante up embarrassingly large incentives to move the truck out the door.
View Photos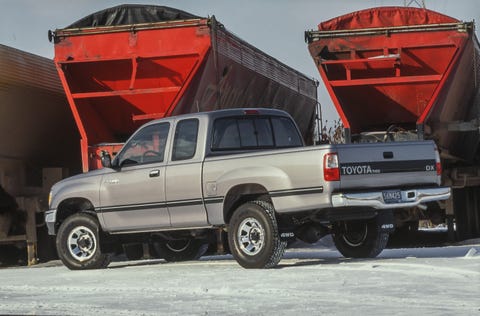 Jeffrey G. RussellCar and Driver
There were four fundamental problems with the T100. It needed more power, it needed an extended-cab version, it was not good-looking, and it was overpriced. Toyota said it would fix the T100, and now it has, mostly.
As for power: The 3.0-liter V-6, venerable old soldier that it was, has finally been retired. It has been replaced by a 3.4-liter V-6, with 24 valves and double overhead camshafts. Horsepower is 190, an increase of 40 over the old 3.0-liter. Torque is up 40 pound-feet, to 220.
View Photos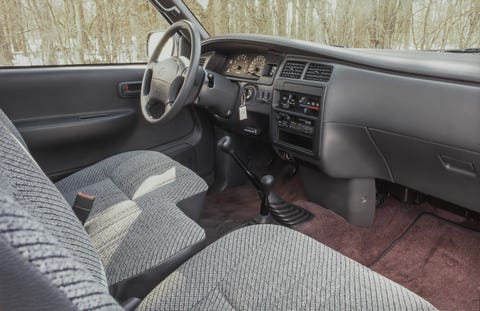 Jeffrey G. RussellCar and Driver
As for an extended cab: The interior of the T100 Xtracab adds 21.4 cubic feet of space, with the total interior room comparable to that of the extended-cab Ford F150.
As for the looks: With the addition of the second side window and the shorter bed (it's 76.1 inches long, which is 21.5 inches shorter than the regular-cab bed), the T100 Xtracab is almost pretty, particularly the four-wheel-drive version.
And as for the price: Well, three out of four isn't bad.
View Photos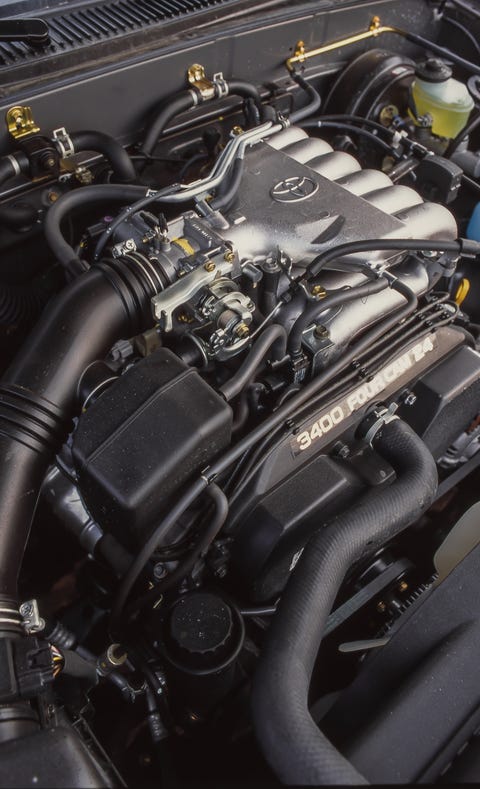 Jeffrey G. RussellCar and Driver
Our test T100 4×4 was the midrange DX model, and although it is reasonably well appointed—air conditioning, carpet, cruise control, sliding rear window—no one would mistake it for a luxury package. The dashboard is unpadded hard plastic, the headliner is Tercel-quality felt, and the AM/FM/cassette sound system is mediocre. You have to wind up the windows, and outside mirror have no inside adjustment. Only the rear brakes have anti-lock control. The transmission is a five-speed manual.
Rare Pickups

Put to Bed: These Are the Forgotten Pickup Trucks
Price: $22,634. Not outrageous, but about $2000 more than a comparably equipped full-sized Ford or Chevy. Of course, no truck maker has a better reputation for durability than Toyota, and that's worth something.
Indeed, this T100 offers much more than the original. The rear seat is livable for short periods, thanks in part to a 15-degree recline in the backrest (unlike many rear truck seats that are completely vertical). There's loads of room on the front bench for the driver and right-seat passenger.