From the February 1993 issue of Car and Driver.
Mazda's easy-to-live-with Miata might have redefined the small convertible sports-car market, but it didn't kill off the eccentric little convertible with—to put it delicately—a bit more character. MGs, Triumphs, and Austin­Healeys, for example, never linger long in the used-car classifieds. And sales remain steady for Alfa Romeo's Spider.
related links
But the choices don't stop there. If the words "kit car" don't frighten you, you might want to consider a Caterham Super 7, a modest-looking paradox of a car whose granny-like open fenders and upright windshield conceal some rather immodest performance.
Oldsters might remember this shape as the Colin Chapman-designed Lotus Seven, first introduced at the 1957 London Motor Show at Earl's Court. The Seven survived sixteen years and four different iterations under Lotus's roof. But when Chapman lost enthusiasm for smaller cars and money got tight at the Hethel factory, he sold the design of the Seven to Graham Nearn of Caterham Cars. Caterhams have been available in the U.S. since 1984, thanks to Chris Tchorznicki of Seven and Elans (of Cambridge, Massachusetts), currently the sole distributor.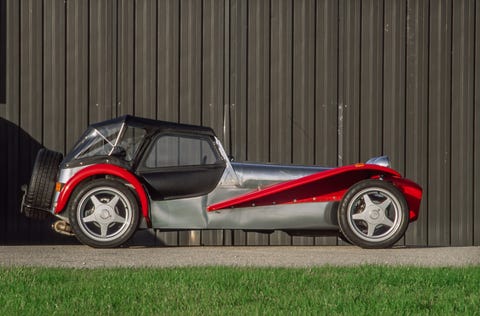 Ken HannaCar and Driver
If you can distinguish a flat-head screwdriver from a Phillips, Tchorznicki figures you could wrench together the Super 7 kit in about 80 hours. That time estimate would be affected by the number of options you select from a list that stretches as long as the Caterham's shiny, louvered aluminum hood. Our loaded HPC (high-performance) test car, assembled by Tchorznicki, stickered for $30,961. That price includes a heated windscreen, a snug-fitting top with weathertight side curtains, and a heater. The last option, a recent addition to the Super 7, was a prickly job for engineers. "Moving the Caterham factory was easier," says Tchorznicki.
Engine choice is yours, as long as it's a Ford four-cylinder (the old Pinto/Fiesta block, with several power ratings) or a "Caterham" (meaning "Vauxhall") sixteen-valve 2.0-liter four, either of which Tchorznicki can help you procure. "These kits have to go together a certain way," he says, "and other engines are just too much bother." Our test car's engine could have been pulled straight from a Vauxhall Calibra: it came with Bosch Motronic port fuel injection and even a catalytic converter. It's rated at 150 hp at a lively 6000 rpm.