Jeep has shared a video with a nearly silent plug-in-hybrid Wrangler 4xe on the same day it showed off a Hemi-powered Wrangler Rubicon.
The automaker had been expected to share more details at auto shows that were canceled this year.
Jeep says that the electrified Wrangler is coming soon but offers up no other details.
Jeep Engages in the off-road wars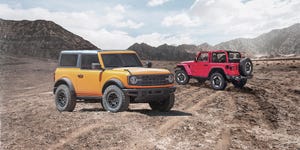 Ford Bronco vs. Jeep Wrangler: The War Begins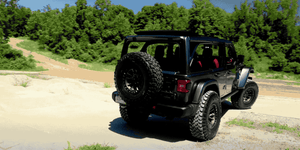 450-HP V-8–Powered Jeep Wrangler Is Coming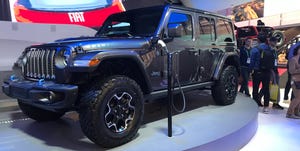 Jeep Shows Wrangler 4xe Plug-In Hybrid at CES
While the world was focused on the Bronco, yesterday Jeep tried to disrupt the hype with its V-8 Hemi-powered Wrangler Rubicon 392 concept. It did turn some heads, because who wouldn't want 450 horsepower and 450 lb-ft of torque in something that crawls over rocks and blasts down dirt roads? The automaker also went in a completely different direction via social media, teasing its upcoming plug-in-hybrid Wrangler 4xe.
This content is imported from Twitter. You may be able to find the same content in another format, or you may be able to find more information, at their web site.