The Fisker Ocean electric crossover made its debut today in Los Angeles in a presentation helmed by Henrik Fisker hiding in the trunk, and the company is taking $250 deposits to reserve one via an app.
Fisker boasts the Ocean will go 250 to 300 miles on a charge and has a vegan interior, and the company offers a subscription plan at $379 per month, including 30,000 miles a year plus service and maintenance, that can be canceled at will.
The Fisker Ocean is expected to reach its first customers in 2022.
It has been nearly a year since Fisker started teasing the Ocean, although it wasn't formally named until October. And now, the Fisker Ocean has been unveiled to the public at the CES technology show in Las Vegas, fully revealing the sleek and sporty stature of the all-electric SUV.
The Ocean is the first in a trio of electric vehicles Fisker says it has planned for the coming years, with production of this SUV beginning in the second half of 2021 and customers getting it in 2022. It is said to have a range of up to 300 miles and a starting price under $40,000, numbers that set it apart from luxury competitors such as the Jaguar I-Pace and Audi e-tron both in price and range.
More about the Ocean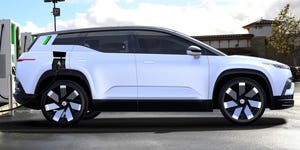 Fisker Ocean EV Prototype Coming in January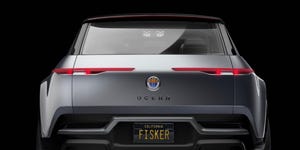 Fisker's $40K Electric Car Named: Ocean
The company is currently taking $250 deposits on the Ocean and will offer a $379-per-month subscription plan for the vehicle which it says can be canceled at any time. The deal requires an up-front payment, in the style of a vehicle lease, and it includes a generous allowance of 30,000 miles a year plus paid service and maintenance. That deal alone should get it some extra consideration from people who may not otherwise feel enough like early adopters to flock to the Fisker name, which has been associated with a lot of bold projects that have not yet reached fruition.