From the January 2001 issue of Car and Driver.
At Schwalbenschwanz, a horseshoe-shaped left-hander on the Nürburgring Nordschleife, probably named for a machine that suctions vomit off upholstery, it begins to rain. Hans Stuck just stomps the accelerator.
Speedy SUVs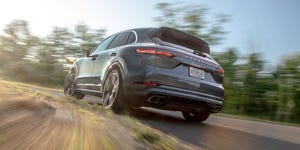 Most Powerful Crossovers and SUVs on Sale Today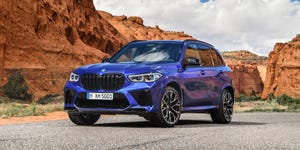 2020 BMW X5 M
BMW has hired the stringy-haired, perpetually smiling German hotshoe to ferry writers around the 12.9-mile, 73-turn Nordschleife in a one-of-a-kind X5 sport-ute fitted with a V-12 engine from one of BMW's Le Mans-winning sports-prototype cars. Stuck, 50, himself a two-time winner at the Circuit de la Sarthe and a starter in 74 Grands Prix, is determined to hit 170 mph on the Nordschleife's looming straightaway, rain be damned. With the engine shrieking at 8000 rpm in fifth gear, Stuck calmly points to the speedometer and says, "Look—170, ja?"
View Photos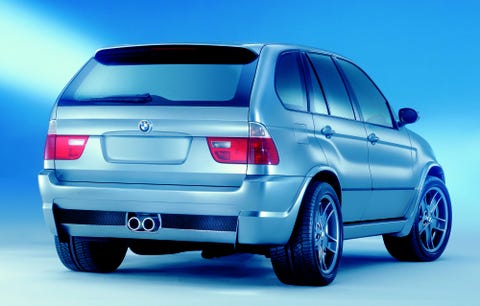 BMW
Ja, indeed. The X5 LM ranks right up there with the ill-considered purchase of Rover as evidence that the boys in Bavaria have gone completely meshuga. Last spring, they plucked an X5 off the South Carolina assembly line and brought it back to the mothership in Munich. A 15-member surgical team was waiting there with one of BMW's cast-alloy, 6.0-liter V-12s selected from the stable of engines used to assault and conquer the 1999 24 Hours of Le Mans.